Previous News
Daily Podcast: will Disney ever remake Star Wars?


Posted on Thursday, September 21st, 2017 by Peter Sciretta
On the September 21, 2017 episode of /Film Daily, Peter Sciretta is joined by Ben Pearson to talk about the latest news, including who might direct the live-action Akira movie; Matthew Vaughn's original plan for a young Wolverine movie, and hopes for Kingsman sequels and spin-off films, a fifth Game of Thrones prequel TV show.
Full Story
---
War for the Planet of the Apes review - smart simian showdown


"Humans get sick, apes get smart, humans kill apes." This is how Steve Zahn's Bad Ape summarises the previous Planet of the Apes reboots. In the third of the Apes prequels (and director Matt Reeves's second film in the series), the apes are out for revenge.
Full Story
---
Welcome again to our exciting weekly newsletter StarWarrior.space.
Otherwise known as an e-zine, StarWarrior is bursting with chosen stories all about not only the Star Wars franchise, but also everything sci-fi.
We do this so that you don't have to.
If you haven't enrolled as a StarWarrior yet - do it now!
We'll send an enrolment Certificate to your email address for you to print off and frame if you like. In later issues we'll tell you how you can advance in rank, and also... when we will have StarWarrior T-shirts available!
If you have any related news you'd like to share, perhaps an upcoming Cosplay event, please let us know. Email: news@starwarrior.space
We really look forward to hearing from you.

Thomas Austen
thomasausten@starwarrior.space
---
This Week's News
A historian says most science fiction has the same major flaw - except one legendary novel

Historian Michael Bess worries that Aldous Huxley's most famous novel "Brave New World" may be one of the most accurate sci-fi visions of our future. In the 1930s-era book, people are bio-engineered, raised in artificial wombs, sorted into castes, and take emotion-altering drugs. Bess argues the trajectory of today's drugs, prosthetics, and genetic engineering may lead to a dystopian future if left unchecked.
Full Story
---
Star Wars 8 trailer leaks 7 new scenes: Luke and Rey ending? Plus Leia, battle of Crait

Recent reports indicate that the movie and the trailer will both start to focus in on Luke. Will he train Rey or try to convince her that she should also abandon the Jedi ways? Will they join forces to battle Snoke and The First Order or will they dramatically part ways? How will it all end? New leaks reveal powerful new scenes as well as show more of what Leia will be doing.
Full Story
---
Political fiction, a form of European activism

Writing fiction, especially science fiction, can become an act of political activism. After all, as Giuseppe Porcaro asks, if we can't imagine multiple future scenarios for Europe how do we expect to build a better one?
Full Story
---
Reading Playboy for the stories: The magazines long partnership with science fiction

The year was 1955. An SF writer named Charles Beaumont had just written a sci-fi story called The Crooked Man, set in a future where heterosexuals are persecuted in a world dominated by homosexual people, and where heterosexuality is stigmatised and outlawed.
Full Story
---
Empire strikes back: Star Wars request to film on Queen's estate refused

The Queen might have made an apparent reference to Star Wars in her 2015 Christmas address but that does not mean she was willing for the epic film series to use her land. It has emerged that a Star Wars request to film on land owned by Queen Elizabeth II was all out rejected. The Crown Estate snubbed the film franchise when it asked to film scenes at Windsor Great Park in Berkshire.
Full Story
---
The capitalist curse isn't what you think

By Jonah Goldberg
The Wall Street Journal recently reported on the "Blade Runner" curse. If you're familiar with the 1982 sci-fi cult classic, constantly reissued in some new "director's cut" or "special edition," you'd be forgiven for thinking the curse had something to do with a mysterious crone casting an evil eye on the producers, vowing the film would spend eternity in an editor's suite. But that's not the whammy the Journal had in mind.
Full Story
---
Explore Japanese science fiction in the latest book bundle from Humble Bundle

I've read and enjoyed a lot of science fiction and fantasy over the years, and I think I've gotten pretty good at identifying if an author is British or American from the way that they write and approach their subject - they're the countries of origin of the authors who've written the vast majority of my reading material after all.
Full Story
---
Aliens would probably love science fiction

Charels Yu is the author of the critically-acclaimed novel 'How to Live Safely in a Science Fictional Universe', and he also helped write the first season of the hit HBO series Westworld. His latest project is the anthology'The Best American Science Fiction and Fantasy 2017', which he co-edited with John Joseph Adams.
Full Story
---
Amazon is developing three new sci-fi shows in an attempt to find the next Game of Thrones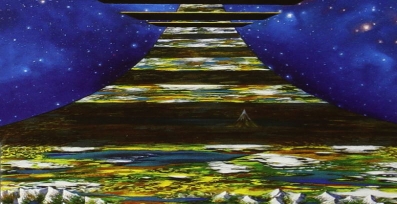 Earlier this month, Variety?reported that Amazon CEO Jeff Bezos issued a mandate to the company's studio: produce more "high-end drama series with a global appeal." This morning, Variety reported that the company is following that order by moving forward with three major science fiction shows: adaptations of Larry Niven's Ringworld, Neal Stephenson's Snow Crash, and Greg Rucka's Lazarus.
Since launching the studio in 2010, Amazon has earned considerable acclaim for its shows, such as The Man in the High Castle, Transparent, and The Grand Tour, but it seems that Bezos is setting his sights a bit higher. In an interview with Variety earlier this month, the head of Amazon Studios, Roy Price, said that Amazon is looking to create "big shows that can make the biggest difference around the world,
Full Story
---
Star Warrior Archive Search
We keep an extensive archive of news stories and product information that have featured in past issues of Star Warrior. If you would like to run a search of the Star Warrior web site using the search tool below please just go ahead by entering in the name of the person, product or company or any other key words that you are looking for.
---
How to contact us at Star Warrior:

Well we hope you enjoyed this issue of StarWarrior. Let us know what you think, we'd love to hear from you! Send in your Cosplay photos and a brief bio and you too could feature in StarWarrior!
Thomas Austen


thomasausten@starwarrior.space
News email: news@starwarrior.space
Admin email: johnausten@starwarrior.space