Welcome again to another edition of our e-newsletter StarWarrior.space. StarWarrior is bursting with chosen stories all about not only the Star Wars franchise, but also everything sci-fi.
We do this so that you don't have to.
It's free to sign up, so if you'd like to have this sent to you each week as an email and haven't yet enrolled as a StarWarrior - do it now!
And if you have any related news you'd like to share, perhaps an upcoming Cosplay event, please let us know. Email: news@starwarrior.space
We really look forward to hearing from you.

Thomas Austen
thomasausten@starwarrior.space
---
This Week's News
Making magic with star wars: secrets of the empire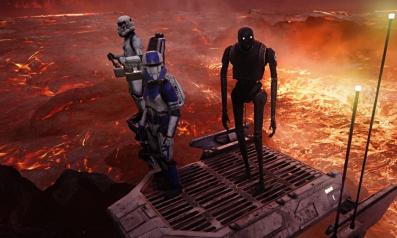 Starwars.com speaks with some of the key minds behind the groundbreaking hyper-reality experience. The odds aren't good. I'm a rebel, so already the cards are stacked against me. My squad and I have to infiltrate an Imperial base. There are four of us against what I'm sure will be many, many more than that.
Full Story
---

---
'Aliens: Dust To Dust' will show us xenomorphs through the eyes of a terrified 12-year-old!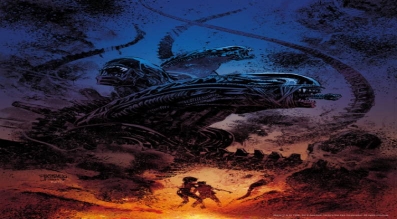 When Xenomorphs attack we see people die, though 'Aliens' has shown that children can survive these attacks and 'Aliens: Dust to Dust' will give us a story told through the eyes of a 12-year-old. The 4-issue miniseries is being penned and illustrated by Gabriel Hardman who was the storyboard artist for 'Logan', 'Dawn of Planet of the Apes', 'Batman: The Dark Knight Rises' and more!
The story will take place at "the Trono colony on the planet LV-871" where the residents are under attack by "mysterious and deadly creatures of unknown origin." While Xenomorphs descend on the colony, the survivors are ordered to evacuate and we follow 12-year-old Maxon and his mother who are trying to make it both "to the safety of the spaceport" and off the planet! However, a horde of Aliens stand in their way
Full Story
---
'Star Wars Rebels' sets 90-minute series finale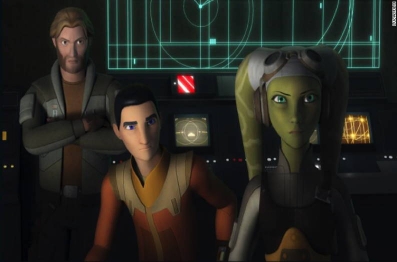 (via CNN)"Star Wars" is officially closing one chapter in its universe, with the animated series "Star Wars Rebels" to conclude March 5 with a 90-minute series finale.
The program, which airs on Disney XD, will return February 19 with back-to-back episodes leading up to its conclusion.
Full Story
---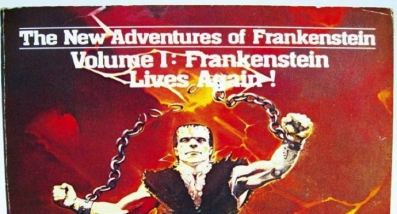 'Frankenstein' might be the first science fiction novel, but its literary heritage has a vibrant afterlife in pulp fiction. Victor Frankenstein and his moping, depressed creation was conceived of by Mary Shelley a good century or more before the golden age of pulp fiction, but the monster and the genre had always seemed made for each other. Reanimated corpses, hubristic scientists, secret laboratories, rogue humanoid creations-each of these tropes scream "pulp"!
Full Story
---
Man behind 'Sophia' AI robot plans to create 'super-intelligent genius machines' that win humans' trust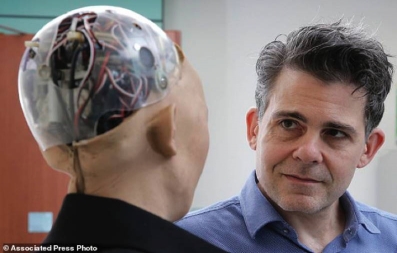 * David Hanson worked as a sculptor for Walt Disney and created animatronic robots for their theme park shows before starting his own firm
* He now aims to create machines that are life-like enough to win people's trust
* His 'masterpiece' is Sofia, a wise-cracking machine based on Audrey Hepburn
* Previous works include a robotic Albert Einstein which teaches children science
Full Story
---
J.J. Abrams is shopping a new science fiction TV series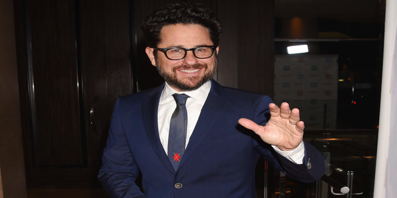 If any one of us were currently writing and preparing to direct Star Wars: Episode IX, that would be our main focus. But none of us are J.J Abrams.
In addition to prepping one of the biggest movies ever, The Hollywood Reporter says the prolific filmmaker is shopping a new sci-fi TV show (called Demimonde, according to TV Line) with both HBO and Apple among the interested parties. The show has a pretty high concept idea. Here's how the trade reports it:
Full Story
---
This is not the future sci-fi writer Charlie Stross predicted (Q&A)

By Seth Rosenblatt
Spreading computer viruses with human DNA. Stalking romantic partners with malware. Recording someone's every move with Internet-connected security cameras.
Full Story
---
Margaret Atwood: 'I am not a prophet. Science fiction is really about now'

"It was not my fault!" says Margaret Atwood of 2017. But it was certainly her year. Now, just a few weeks into January, she is already making headlines with typically trenchant comments on the #MeToo movement. And, of course, the second season of The Handmaid's Tale returns this spring: she has read the first eight scripts and has "no fingernails left". While the world - and Gilead - show no sign of getting any cheerier, Atwood is seemingly unstoppable.
Full Story
---
Benjamin Bratt dubs Pixar master storytellers

Benjamin Bratt revealed he thinks Pixar are "master storytellers" but thinks American cinema has a long way to go to be more diverse. The 54-year-old actor stars as singer Ernesto De La Cruz in the new Oscar-tipped animation 'Coco' and he admitted he loved that the movie will "illuminate the beauty and uniqueness of Mexican culture".
Full Story
---
Automation, robots and the 'end of work' myth
Can you imagine travelling to work in a robotic "Jonnycab" like the one predicted in the cult Arnold Schwarzenegger movie Total Recall? The image from 1990 is based on science fiction, but Mercedes Benz does have a semi-autonomous Driver Pilot system that it aims to install in the next five years and Uber is also waging on a self-driving future.
Its partnership with Volvo has been seen as a boost to its ambitions to replace a fleet of self-employed drivers with autonomous vehicles.
Full Story
---
Star Warrior Archive Search
We keep an extensive archive of news stories and product information that have featured in past issues of Star Warrior. If you would like to run a search of the Star Warrior web site using the search tool below please just go ahead by entering in the name of the person, product or company or any other key words that you are looking for.
---
How to contact us at Star Warrior:

Well we hope you enjoyed this issue of StarWarrior. Let us know what you think, we'd love to hear from you! Send in your Cosplay photos and a brief bio and you too could feature in StarWarrior!
Thomas Austen


thomasausten@starwarrior.space
News email: news@starwarrior.space
Admin email: johnausten@starwarrior.space