Previous News
Lucasfilms announces new Star Wars trilogy


Lucasfilm has announced that the Star Wars: The Last Jedi director, Rian Johnson, will create a brand-new Star Wars triology. According to the announcement on the Star Wars website, Johnson will be writing and directing the first movie in the trilogy, with longtime collaborator Ram Bergman producing.
Full Story
---
What Star Wars history may tell us about Rian Johnson's new trilogy


Yesterday, the news dropped that Rian Johnson's time in the Star Warsuniverse would not end with The Last Jedi. Instead, Disney CEO Bob Iger announced that Johnson would be working on a brand new trilogy of movies, separate from the main Saga films, that would "introduce new characters from a corner of the galaxy that Star Wars lore has never before explored."
Full Story
---
US fighter jets firing lasers is no longer science fiction


The future of the US Air Force is looking more and more like Star Wars. The United States Air Force Research Lab is investing heavily in the future of this country's defense systems, and that future will apparently involve an increase in airborne laser weaponry.
Full Story
---
Welcome again to another edition of our exciting weekly newsletter StarWarrior.space.
Loving finding out about science and technology while compiling StarWarrior ! Sci-Fi is a rich source of new ideas. If you can think it, someone can make it.
It seems everyone wants to dress up as a stormtrooper these days, just like my dad did in the original Star Wars trilogy, and not just at Conventions either! The ever-popular Princes William and Harry had their chance recently, as our story below tells.
Otherwise known as an e-zine, StarWarrior is bursting with chosen stories all about not only the Star Wars franchise, but also everything sci-fi.
We do this so that you don't have to.
If you haven't enrolled as a StarWarrior yet - do it now!
We'll send an enrolment Certificate to your email address for you to print off and frame if you like. In later issues we'll tell you how you can advance in rank, and also... when we will have StarWarrior T-shirts available!
If you have any related news you'd like to share, perhaps an upcoming Cosplay event, please let us know. Email: news@starwarrior.space
We really look forward to hearing from you.

Thomas Austen
thomasausten@starwarrior.space
---
This Week's News
Star Wars 8: The Last Jedi isn't an homage and pushes the franchise forward, says director Rian Johnson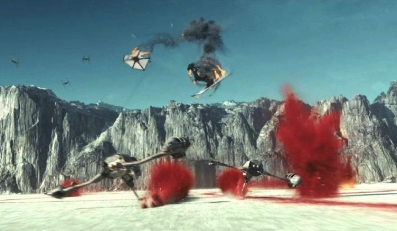 Fun though Star Wars: The Force Awakens was, it felt like a bit of a retelling of the original Star Wars films and relied a lot on big reveals of beloved established characters.
Director Rian Johnson has taken care to avoid this with his sequel, The Last Jedi, however, which is more about "pushing everything forward."
Full Story
---
Star Wars: Princes William and Harry are stormtroopers in The Last Jedi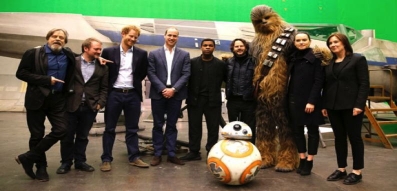 Princes William and Harry have cameo roles as stormtroopers in the next Star Wars film, actor John Boyega has said. The royals visited the set of The Last Jedi in April 2016 and were rumoured to have filmed a scene in disguise.
Now Boyega, who plays reformed stormtrooper Finn, has confirmed that he shared a scene with the pair "wrapped in stormtroopers costumes."
Full Story
---
The troublesome universe of 'Valiant Dust'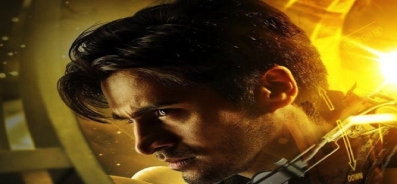 They say that all science fiction stories are tales of today, dolled up with ray guns and spaceships to make them more palatable. That they're all muddled messes of our modern politics and current fears, our hopes for distant sweet endings cut with the arsenic cynicism of actually living in the present moment.
And that's probably true, if only because no science fiction writer (with the arguable exceptions of William Gibson and Philip K. Dick) can really see into the future. Richard Baker's newest novel, Valiant Dust, is no exception. As a matter of fact, it is possibly one of the most thoroughly today-ish novels I have ever read - all starships, warp torpedoes and faraway worlds serving as only the gauziest scrim to cover a story which is very much about our current moment in history.

Full Story
---
Let the 'Force' bring you to UW-Parkside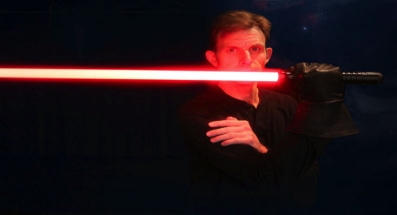 By Lee B. Roberts
The "Force" is set to return to movie theaters across the country Dec. 15 when "Star Wars: The Last Jedi" - the latest installment in the "Star Wars" film saga - opens. In preparation for that much-anticipated release, the University of Wisconsin-Parkside is hosting a series of free, public events celebrating the cultural phenomenon that is "Star Wars."
Full Story
---
Sherlock Holmes and Jack the Ripper have often met in fiction, though only one of them is real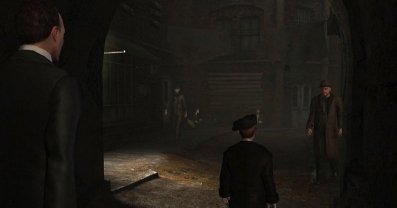 A fictional super-detective and a notorious real-life serial killer walk into a bar together..." I don't know if crime buffs have yet thought up a joke that begins with that line, but this gin joint would likely be in London's poverty-drenched East End in the 1880s: the sort of place where shady characters might drop in for a peg or pint at any time, even 7 AM, to ward off the cold and other miseries. And the carousing sleuth and murderer would be Sherlock Holmes and Jack the Ripper, respectively.
These two men have often faced off in the pages of novels and short stories - and, apparently, in video games too. It's a fascinating pairing for obvious reasons. They operated on opposite sides of the law in the same metropolis at the same time: Arthur Conan Doyle's first Holmes story appeared in
Full Story
---
'Doctor Who' Christmas Special clip shows the first doctor hating the modern Tardis
It's difficult to believe that we're only barely more than a month away from Peter Capaldi's final episode as The Doctor.
For the past few years, Doctor Who episodes have been heavily rationed, with tiny slivers of deliciousness eeked out, sometimes once a year, as fans desperately wait for more. This year, we got a full season of the show, and now we're almost upon the traditional annual Christmas extravaganza, which shows up every December 25th.
Full Story
---
A Harry Potter-inspired potions class with 'magic' working wands, bubbling cauldrons, and colour-changing alcohol is coming to London in 2018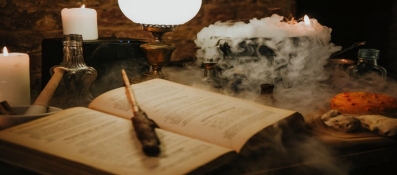 * A "Magical Cocktail Experience" is coming to London in March 2018.
* Guests will create their own drinkable potions using a wand.
* The people behind it also plan to open a Harry Potter-inspired pub.
The team who are planning to launch London's first 'magical' Harry Potter-inspired pub - The Cauldron - have another more imminent surprise in store for fantasy fans.
Full Story
---
A company is making 3D printing of human body parts a reality

3D bioprinting is already being used to create cartilage and skin cells to test cosmetics. It may sound like the stuff of science fiction, but a technique to 3D print body parts using ink that contains human cells is being developed by a Swedish firm.
Cellink uses a process known as 3D bioprinting that uses cell-laden bio-ink to create and grow human tissues and organs.
Full Story
---
Metal 3-D printing is, finally, overcoming its limitations

Techniques for 3-D-printing metal have long been too expensive and slow, and the parts produced too weak, to compete with traditional manufacturing-but that is changing, and fast.
Full Story
---
Star Warrior Archive Search
We keep an extensive archive of news stories and product information that have featured in past issues of Star Warrior. If you would like to run a search of the Star Warrior web site using the search tool below please just go ahead by entering in the name of the person, product or company or any other key words that you are looking for.
---
How to contact us at Star Warrior:

Well we hope you enjoyed this issue of StarWarrior. Let us know what you think, we'd love to hear from you! Send in your Cosplay photos and a brief bio and you too could feature in StarWarrior!
Thomas Austen


thomasausten@starwarrior.space
News email: news@starwarrior.space
Admin email: johnausten@starwarrior.space